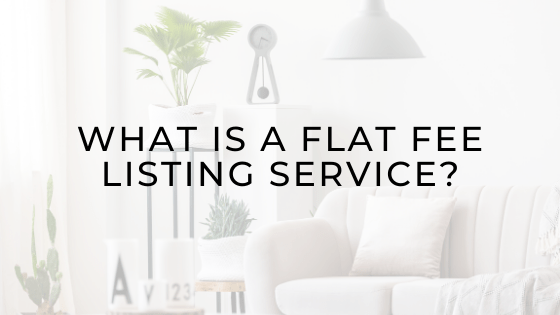 The real estate industry is changing, but one thing that hasn't changed is sellers looking to save money on brokerage commissions when selling their homes.
In most markets, the brokerage commission is 5-7% of the sales price, split between the listing broker and the selling broker. The brokers then pay the agents (that's me!) that handled the transaction.
Agents get anywhere from 50% to 90% of the commission, depending on the structure their broker has in place.
Recently, there has been a rise in flat fee services and 1% commission agents.
Flat fee agents generally charge one fee to list your home on MLS, the Multiple Listing Service agents use to market homes and find homes for buyers. Flat fee services are not usually full-service agents, which means the seller must handle a lot of the tasks an agent would normally cover:
Arrange for listing photos to be taken
Schedule showings and be available to show the home
Conduct marketing outside of MLS, such as open houses, social media marketing, flyers and mailings
Negotiate price and terms with the buyer's or their agent
Execute the contract and necessary addenda
Make sure the buyer turns in the escrow deposit
Be available during the home inspections
Communicate with the buyer's agent, lender and the title company to keep everyone on schedule until closing
Agents that advertise themselves as taking only a 1% commission operate similarly to a flat fee service, though they will tell you otherwise. The key is knowing exactly what comes with that 1% and what additional services will cost you.
The 1% commission is immediately misleading, as the seller will still be asked to pay the buyer's agent their side of the commission, 2.5% to 3.5% of the sales price.
Additionally, the 1% on the listing agent side may only cover certain tasks. The agents often have a menu of add-ons that raise the commission above one percent. You may only get the MLS listing and help signing the contract for that 1% and end up paying more to have help with showings, and all the work agents do to get you from listing to the closing table successfully.
If you are thinking of selling your home, I would love to have the opportunity to talk to you about how I can help!
C&C